Monihar — the garland of gems — is a unique collection of Rabindra Sangeet, the songs of Kabiguru Rabindranath Thakur, from the dulcet voice of Sudip Datta, set to musical accompaniment by the talented young arranger and composer Apan. Come experience Rabindra Sangeet in a new light with Monihar.
Listen the glimpses of all the songs: Glimpses

Many have sung these songs, but Monihar diverges from convention with a fresh approach that defies traditional classification. The immortal poetry of Kabiguru Rabindranath Thakur has bridged generations with its unparalleled ability to mirror every human emotion. In the pantheon of world literature, the Nobel laureate poet of poets has left an indelible mark with his lyrics and music, which resonate with every Bengali soul's deepest yearnings. We pay homage to his transcendental genius with this humble offering.
Sudip Datta has sung Rabindra Sangeet for many decades, winning accolades at every step of the way with his sonorous baritone and attention to gayaki — the style of performance. He brings a joie dé vivre in his singing that elevates even the most difficult songs to brilliance. A student of Sri Bhabesh Chattopadhyay and Sri Dwijen Mukherjee, Sudip melds the classic style of Rabindra Sangeet with an innovative charm that has won him a devoted following across the world. In this recording he reached deep within himself to accurately portray the emotions inherent in each song, and it shows.
Apan is a musical prodigy who has captivated listeners with his compositions at a tender age. His musical arrangement is the umami that lifts the profound and sacred emotions of Rabindra Sangeet in Monihar to a different plane. Working as an arranger and composer since his early teens, Apan has blazed a path through the Bengali music firmament. His unique take on the traditional accompaniment for Rabindra Sangeet is a testament to his talent as a composer and keyboardist. The mark of a successful musical arrangement for Rabindra Sangeet is its humility and balance, and Apan achieves both with a twist of unexpected brilliance. Collaborating with a band of young musical talent, he elevates each song to a higher level of feeling. A gifted sound engineer, he imbues each track with an ethereal beauty.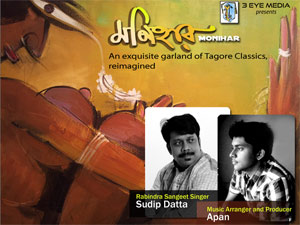 The production of Monihar was an intercontinental effort. The vocals were recorded at the legendary Cue Recording Studio in USA, by DJ Kyriakides, while the musical arrangement and mastering were done in Kolkata, India under Apan's supervision.
Artists
Sudip Datta – Rabindra Sangeet Singer
Apan – Music Arranger and Producer
Sankha Shubhra Ghosh – Bass, Acoustic and Electric Guitar
Anupam Datta – Tabla and Supportive Percussion
Biplab Bhattacharya – Tabla and Percussion
Ujjwal Mukherjee – Whistle